Cosmetic Innovations Meet Academic Brilliance: The Jebsen & Jessen and MFU Showcase
As the cosmetic industry evolves, so does the need for fresh perspectives and innovative minds. The MFU Cosmetic & Beauty Contest, in collaboration with Jebsen & Jessen Ingredients Thailand, set the stage for young talents to manifest their vision using industry-leading ingredients.
27 September 2023
On September 2, 2023, Jebsen & Jessen Ingredients Thailand's Personal Care Team, a leading distributor of high-quality cosmetic ingredients, joined forces with the School of Cosmetic Science at Mae Fah Luang University to launch the "MFU Cosmetic and Beauty Contest". The goal of this collaboration is to bridge academic excellence with cosmetics science and industry innovations, fostering a space where creativity meets practical application.
The Challenge
Contestants were supplied with 12 unique cosmetic ingredients, all distributed by Jebsen & Jessen Ingredients Thailand, but with a twist – they had no prior knowledge of what these ingredients would be. With these unexpected ingredients in hand, the teams had a tight 2-hour window to both craft a novel sunscreen formulation and deliver a compelling pitch for their innovative sunscreen prototypes.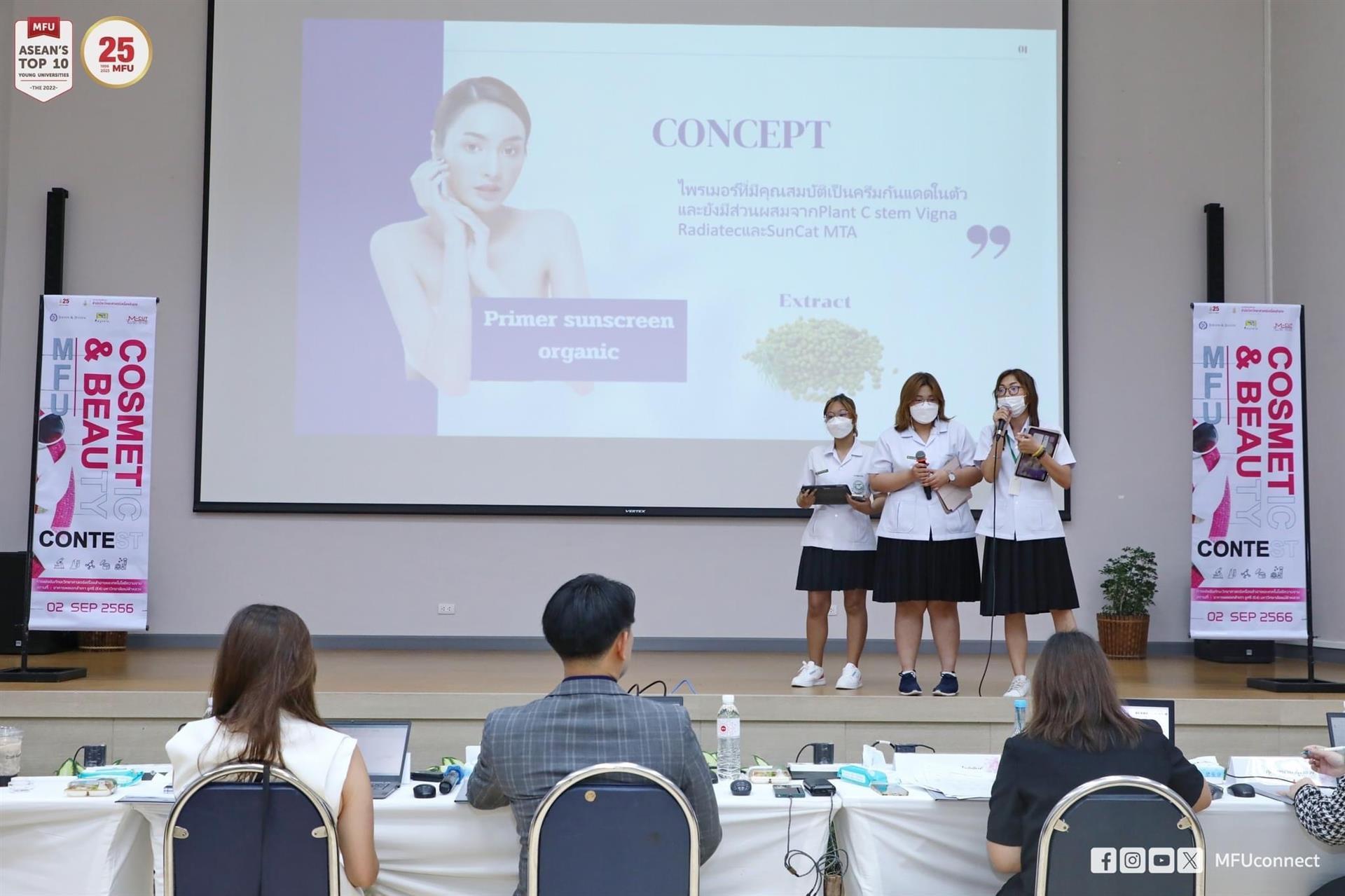 The 'Mystery' Ingredients
The personal care team at Jebsen & Jessen Ingredients Thailand both selected and supplied the 12 ingredients that the students used to create their sunscreen prototypes.
Innovacos: Polyaquol 2W, Polyaquol OS2, Innollient LO, and Plant C Stem Vigna Radiata.
Sensient: Covafresh IV and Covacryl MV60
BioNest: Suncat MTA, Nestdry ST-2000, Nestdry 3108, and Nestdry 2422A
Evonik: Aerosil R972
Novachem: Omegamax
The Event
At the heart of the Mae Fah Luang University campus in Chiang Rai, the opening ceremony buzzed with excitement and anticipation. Leading the proceedings was Assistant Professor Dr. Matchima Naradison, whose passionate address set the tone for the day's competition. Alongside her, Associate Professor Dr. Wandee Rangsiwichitprapha, the esteemed Dean of the School of Cosmetic Sciences, provided insights and words of encouragement to the eager participants.
The day started with an in-depth session led by Jebsen & Jessen's Benjaporn Kumyong, Sales Executive – Personal Care, guiding contestants on the nuances and potential applications of the provided ingredients at the Cosmetic Science Laboratory.
As the event began to unfold, the depth of talent became evident. A diverse array of 19 ambitious teams from four of the region's most renowned universities — Phranakhon Rajabhat University, Naresuan University, Payap University, and of course, Mae Fah Luang University — showcased their expertise, presenting innovative solutions and competing fiercely in a contest that merged creativity with scientific acumen.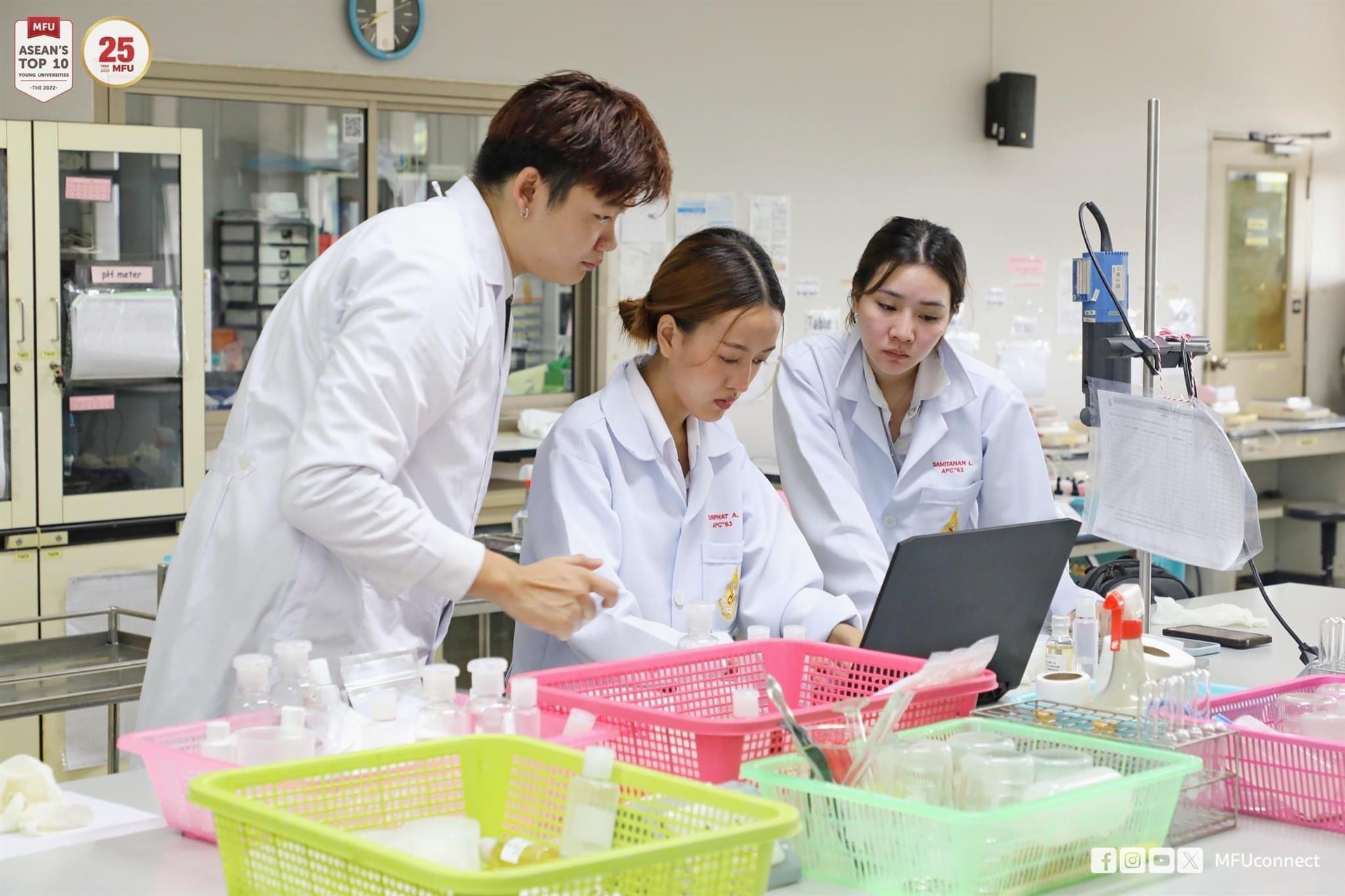 The Judges
Our panel of esteemed judges included experts from Jebsen & Jessen's Personal Care department as well as industry experts:
Mr. Thitipong Aiemvarapun, Assistant Department Manager - Pharmaceuticals & Personal Care, Jebsen & Jessen Ingredients (T) Ltd.
Ms. Butsarawadee Amornchotphan, Sales Manager, Jebsen & Jessen Ingredients (T) Ltd.
Ms. Benjaporn Kumyong, Sales Executive, Jebsen & Jessen Ingredients (T) Ltd.
Ms. Kanlaya Kunathip, Product Development Manager, Unilever Thailand Company
Ms. Suchada Buasunthon, R&D Manager Personal Care Department, International Laboratory Corp., LTD.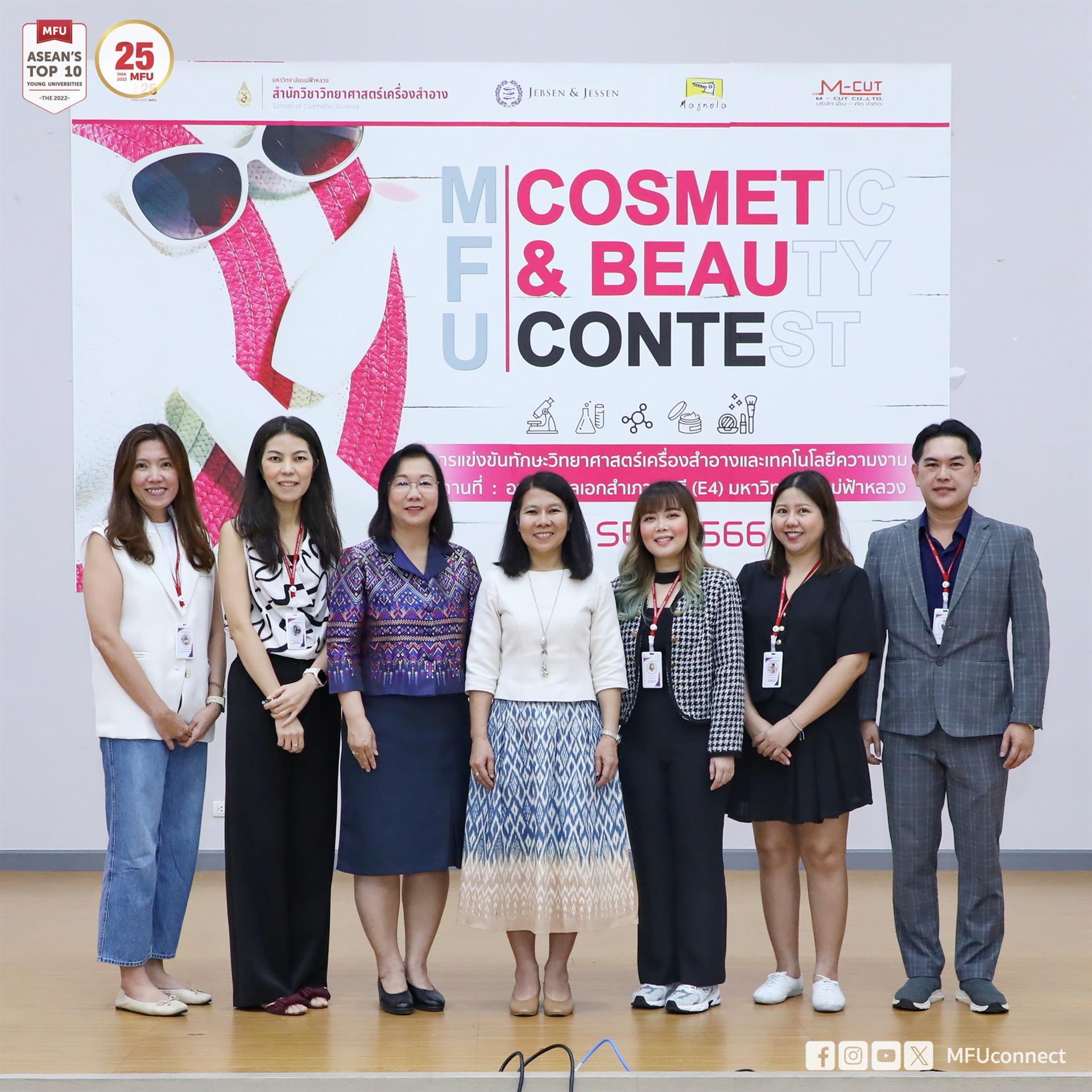 The Results
The culmination of the contest was the award ceremony, graced by Assistant Professor Dr. Panupong Jaiwut and Associate Professor Dr. Wandee Rungsiwichitprapha. Great job to all the teams who participated in this event and congratulations to all the winners!
1st Place: Thatscreen Team, Mae Fah Luang University.
1st Runners-up: Teams from Naresuan University and Mae Fah Luang University.
Honourable Mentions: Teams from Mae Fah Luang University and Phranakhon Rajabhat University.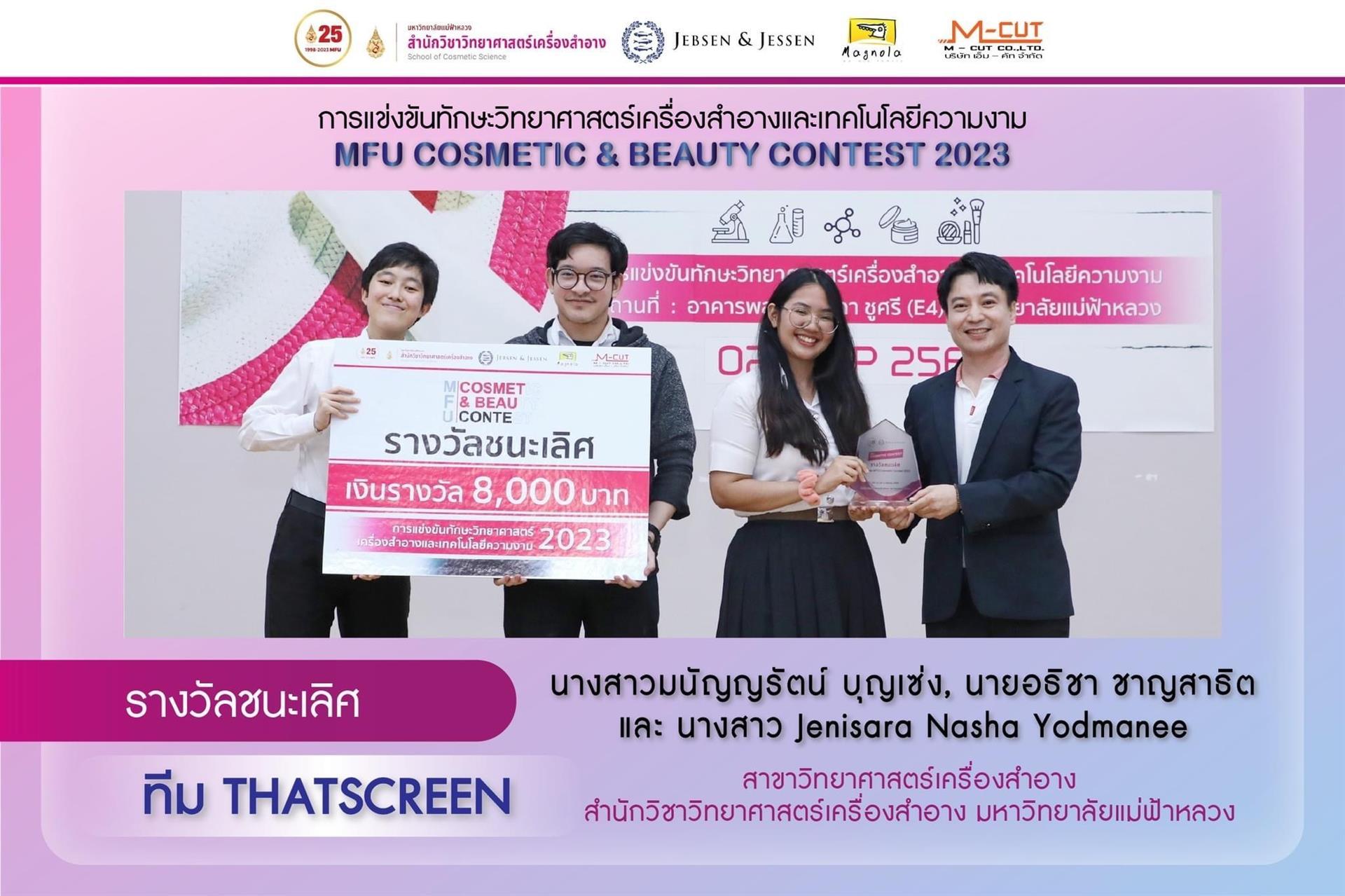 The event was a big success and Jebsen & Jessen were happy to be a part of it as the main sponsor and judges. However, our commitment extends beyond sponsorship, we are dedicated to nurturing talent and facilitating innovation in cosmetics science. We can't wait to collaborate with Mae Fah Luang University again next year and contribute to another great contest.
*** Article contributed by Benjaporn Kumyong ***